Answer Cancer Fund
Would your organisation like to help play a part in boosting cancer screening rates in Greater Manchester?
Financial support is available to voluntary, community and social enterprise organisations who can help recruit Answer Cancer Champions to promote cancer screening amongst under-represented groups.
Please note that due to the changes in the fund and issues with organisations dealing with COVID-19, we have now extended the closing date to Monday 18th May.
Investments of £1,000 – £2,000 are available.
These investments are funded by Greater Manchester Health and Social Care Partnership.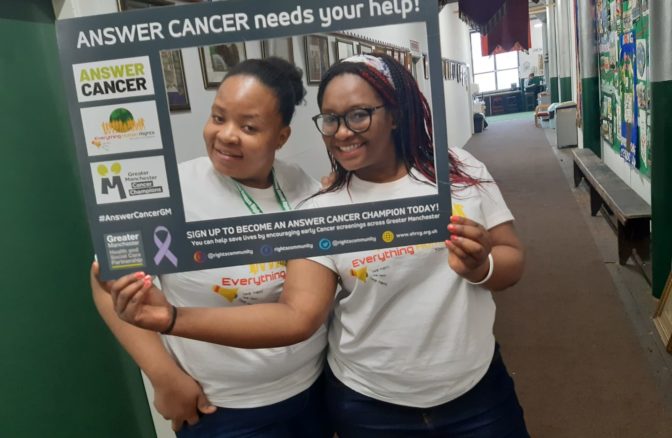 IMPORTANT NOTICE – COVID 19
Since we launched the grants scheme much has changed.
The coronavirus is fundamentally affecting how we connect to each other, and how we live in our own communities. As Answer Cancer, we thought long and hard about whether we should pull the grant call with its focus on doing those very things we should never take for granted but which now endanger us: meeting, talking, sharing, and being together. These are the strengths of our wonderful voluntary and community sector.
We did not want to do that. We know that cash investment in our sector has never been more vital and we are proud of our vibrant sector and want to make sure it continues.
We also know that the need to connect (while remaining 'socially isolated') is even more important. We still want people to encourage screening uptake but clearly we need to find new ways to do this. There's little alternative at the moment. So, look at the grant call, and ask: how can my group connect? What could we do? How could this investment work for us so we can keep connected? Online Ballroom, text quizzes, phone chains, virtual events, all fair game. Think it through, the deadline is 18th May, let us have your ideas and help you hold onto those connections we all take for granted.
Closing Date: Monday 18th May 2020