Answer Cancer Fund – Round 3 Now Closed.
Would your organisation like to help play a part in boosting cancer screening rates in Greater Manchester?
Financial support is available to voluntary, community and social enterprise organisations who can help recruit Answer Cancer Champions to promote cancer screening amongst under-represented groups.
Investments of up to £5,000 are available NOW!
These investments are funded by Greater Manchester Health and Social Care Partnership.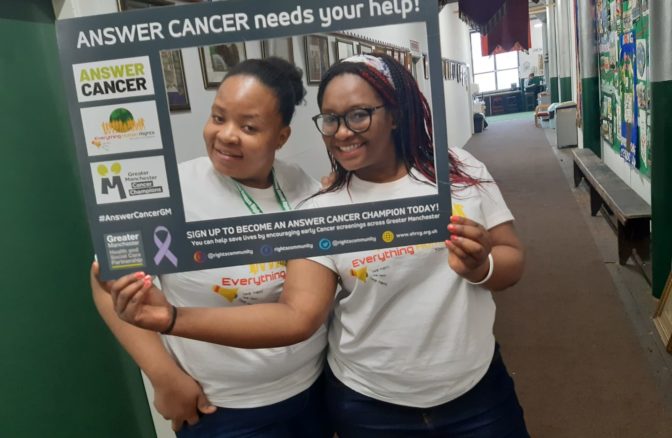 Grants of up to £5,000 are available for Greater Manchester-based VCSE organisations undertaking projects to promote cancer screening amongst the following priority groups:
Black, Asian and Minority Ethnic communities
LGBTQ+ communities
Disabled people
People who care for others
People living with poor mental health
Women's groups or Men's groups
Communities from geographical areas of deprivation
Applications will be assessed using a two-stage process with an initial Expression of Interest to be submitted by early September, and shortlisted groups asked to them completed a full application by late October.
Projects are expected to last between 6-12 months and groups will be required to recruit between 3 and 5 Lead Answer Cancer Champions to act as
volunteer advocates in their community over the duration of your project.
There is no turnover limit for applicant organisations, and organisation previously supported by Answer Cancer investments are welcome to apply.
We were pleased to hold two Meet the Funder Zoom events to talk people through the application process and what we were looking for in a successful project, as well as answer any questions. The slides for these can be found here.
All queries and final Expressions of Interest should be sent to: grants@salfordcvs.co.uk or by post to: Salford CVS, The Old Town Hall, 5 Irwell Place, Eccles, Salford, M30 0FN
Key Dates
Closing date for Expressions of Interest: 12:00 noon on Monday 6th September 2021
If shortlisted – the closing date for Full Applications: 12:00 noon on Monday 25th October 2021
Documents
Download the Guidance Notes in PDF format or in WORD format
Download the Expression of Interest form
View the Terms and Conditions of Grant