Over the weekend of the 13th & 14th of August, the Answer Cancer Engagement team hosted a stall at the Manchester Caribbean Carnival, held in Alexandra Park.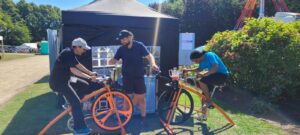 It was a very hot couple of days but we still spoke to hundreds of people about cancer and the importance of screening, and also had a bit of fun along the way! This included taking part in a bike smoothie challenge with colleagues. Members of the public were also invited to take part, giving our team the opportunity to talk to partners & family members about cancer awareness and how they can protect themselves. 
Many thanks to everyone who came down!