Manchester Mela is always one of the cultural highlights of the summer, so Answer Cancer were delighted to be hosting a stall at this year's event which was held on 24th & 25th July in Platt Fields Park.
Whilst there we spoke to members of the public about cancer and the importance of screening and encouraged them to take part or discuss it with friends and relatives. We handed out leaflets to people, spoke one to one and also listened to their experiences of cancer and how they or their loved ones had been affected.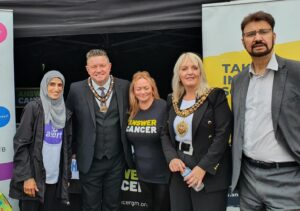 We were delighted to be joined by several Answer Cancer Champions who helped out and also offered their personal experiences. We were also joined by local MP Afzal Khan and the Lord Mayor of Manchester, Cllr Donna Ludford who offered their support.
Despite some wet weather on the Sunday it was a great event and we reached hundreds of people.
In August, we will be hosting a similar stall at Manchester Carnival. This takes place on 13th & 14th August in Alexandra Park, and we would welcome any volunteers who wish to help out! Please get in touch if you want to take part.