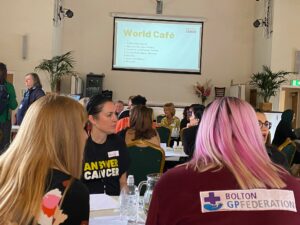 After a pause of 2-years, our quarterly Stakeholder Collaborative finally came offline, and we met face to face at Eccles Town Hall. The event was an opportunity for friends and colleagues to network, reconnect and share their stories.
"Great informative & inspirational morning with some amazing grassroots work"
Across the morning we showcased what's going on across Greater Manchester with Answer Cancer and our partners. There was a focus on the brilliant work of organisations who have received funding and support from Answer Cancer.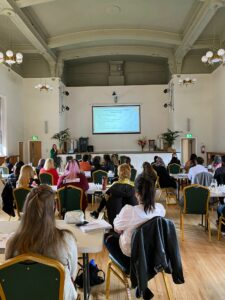 Alison Jones (Director of Cancer Commissioning and Early Diagnosis, Greater Manchester Cancer) shared updates about the Lung Check Programme. We discussed how communities could help raise awareness.  Dawn Lythgoe (Strategic Lead for Performance, Programmes & Communication, Bolton GP Federation) talked about their work to increase cervical screening. Drop-ins and engaging with communities differently can help. Ashley Chapman (Grants Officer, Salford CVS) reported on the lessons and success of Answer Cancer's Grants Programme.
The biggest 'buzz' from the day was definitely our World Café.  Seven of our grant recipients shared their stories in 15-minute-long sessions, as people swapped from table to table.
"It was very inspiring to see diversity of people and projects involved in this campaign. Thank you for making us so welcome, comfortable and we really enjoyed being in your event!"
It was a lively, friendly, and informative day.  Thanks to everyone who took part, especially those people who shared their work.  Watch this space for the next one in September…
If you would like more details or a copy of the slides from the day, please get in touch.