Answer Cancer were delighted to take part in an event last Thursday 16th June at HOME discussing research into alternative methods of Cervical Screening and the potential impact on take-up within the LGBTQIA+ community.
Individuals who identify as LGBTQIA+ with a cervix have lower cervical screening attendance. The Alternative CErvical Screening (ACES) team at Manchester University have been investigating the accuracy of a urine test as an alternative to the 'smear' for screening, in the hope that this could increase screening attendance.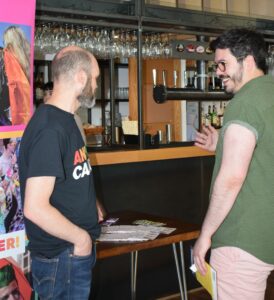 This event, hosted in partnership with Manchester Pride and the Christie Hospital and featuring the LGBT Foundation amongst others, was an opportunity to learn more about cervical screening and hear the results of the ACES LGBTQIA+ survey. There was an informative panel discussion where experts and LGBTQIA+ community members shared their experiences, future research directions and implications for screening within the community.
The event also celebrated those in the LGBTQIA+ community and their contribution to the project and featured a special live performance from queer synth-pop performer, HUSK. Answer Cancer hosted a stall at the event, speaking to guests about cancer screening, particularly in relating to members of the LGBTQIA+ community, and handing out information.
You can find out more about the research and follow its progress here.