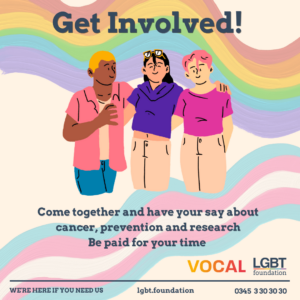 Do you know the data about LGBTQI+ people and cancer?  Would you like to encourage others in the community to help shape health research? Be part of a new creative project!
LGBT Foundation and Vocal are coming together to host a series of creative workshops and conversations about cancer, prevention and research.
They are looking for people who are over 25 and LGBTQI+:
With and without lived experience of cancer
Who care for or have cared for someone with cancer
Who are happy to share their experiences and ideas
Throughout June they will be hosting a series of creative workshops bringing community members and researchers together to have open discussions about cancer research. As part of these activities, participants will be involved in creating a series of short videos and creative outputs (for example zines, illustrations and more). To showcase these discussions and call for more people from the LGBTQI+ community to have a say in research.
Activities will be supported by a local artist and videos will be collaboratively produced with Boca Films.
You will:
Have an opportunity to find out more about cancer research
Be part of open conversations with researchers
Make creative outputs (no experience necessary)
As a thank you for your time, all participants will receive gift vouchers once the workshops have been completed.
For more information and to take part please contact: tom.chew@lgbt.foundation