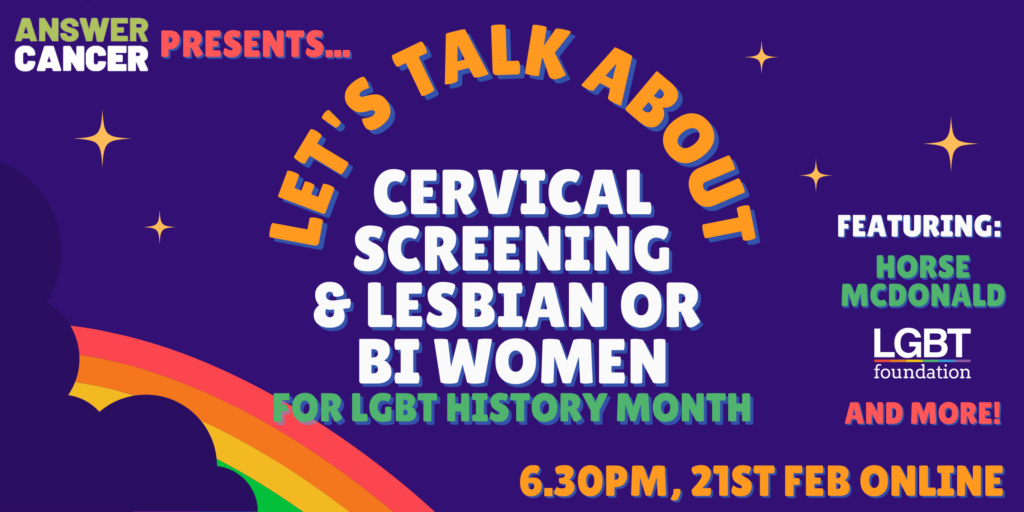 When: 6.30pm, Monday 21st February Online
To mark LGBT History Month, Answer Cancer is pleased to host this online event discussing cervical screening (aka the Smear Test) and why it is important for lesbian and bi women to take part.
In the past there have been many myths and disinformation about who needs to attend cervical screening. At this event you will hear from healthcare professionals about the importance of screening in keeping you safe and healthy.
We are also pleased to welcome the LGBT Foundation who will be talking about some of the barriers to screening that lesbian & bi women experience and how we can tackle them. A video from women's collective Girl Gang Manchester will give some valuable tips and advice on how to beat "Smear Fear".
Finally, we are delighted to speak to singer-songwriter Horse McDonald about this issue and what action the LGBT Community can take.
There will be opportunities for questions, answers and discussion throughout the evening.
We hope that you can join us for this event and help us tackle this vital issue.