Dr Mina Desai, a Lead Answer Cancer Champion and previously a consultant at The Christie Hospital in Manchester and Manchester Royal Infirmary, has worked tirelessly for more than thirty years for cervical cancer prevention in the UK and globally.
Dr Desai's hard work and dedication meant that she has received a CBE for services to women's health and had the pleasure and honour to be a torch bearer at the 2012 Olympic Games.  To this day she continues this work as a trustee for Jo's Cervical Cancer Trust charity.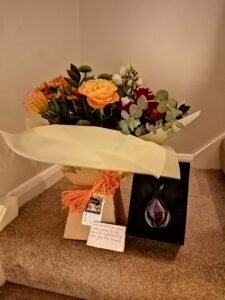 To mark Dr Desai's 70th birthday the British Association for Cytopathology (BAC) commissioned ten awards. One award will be presented annually, for the next ten years, to an invited guest speaker at the BAC annual scientific meeting for outstanding contributions to the field of cytopathology.
This award will be called the BAC Mina Desai award.
The first award itself was presented Dr Desai, after her guest lecture at the BAC ASM on the 15th October.
Clodagh Ward, Chair of Trustees from Jo's Cervical Trust says; "We are very proud, and lucky, to have Mina on our board. She brings wisdom, great knowledge and experience, connections and always provides a reminder to us of the role we must play in eliminating cervical cancer but also how inequitable access can be to screening and the work we still need to do to address this."
If you would like to get involved with the Answer Cancer Programme, which focuses on increasing the amount of people attending cancer screening appointments, please get in touch with Vanessa at vanessa.fisher@vsnw.org.uk