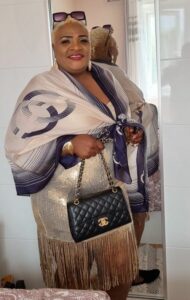 For our next Meet the Champions profile, we are pleased to introduce Nike Badmus,  Founder of Manchester -based charity, Hope Savers Foundation.
Nike describes herself as follows: "I am a Mother, the founder of Hope Savers Foundation, Wonderfully Made Woman volunteer, an Answer Cancer Champion, Afruca Champion, and I am a mental health practitioner, currently studying to be an adult nurse."
Q. Who is someone you admire, and why?
A. My late mum, she was everything to me and taught me so many morals and life lessons that I am still using today and its working for me.
Q. Tell me three pet peeves.
A. Rudeness, two-faced people and back biting.
Q. What's a typical day like for you?
A. A typical day would be getting dressed up and then getting straight on with what I am going to do. Either doing research, an assignment or just being lazy at home.
Q. Do you have any skills or talents that most people don't know about?
A. People never know that I crochet, I love making face-mask connector I can just come do it in my car.
Q. If you could be anywhere other than here, right this minute, where would you be? (Don't overthink it!)
A. With my late mother wherever she is, to have another conversation with her
Q. Flashback to when you were 10 years old. What do you want to be when you grow up?
A. All I know is I wanted to go to school and read.
Q. If we went to happy hour, what would you order?
A. Something I've never heard of before!
Q. Finish this sentence. On Sunday mornings, you can usually find me…
A. In my bed!
Q. How do you want people to remember you?
A. To have impacted positively in them
Q. What do you think are the best skills that you bring to your job?
A. A people person and non-judgemental. I'm a team player, currently I have a charity and I like everyone to come to the meeting and just talk to see if people go with my vision.
Q. What do you want to make sure you do before you die?
A. Make sure my children are very comfortable.
Q. What's a goal you have for yourself that you want to accomplish in the next year?
A. One goal is to establish my foundation up and running. We empower people and talk to them about mental health, children, cancer awareness.
Q. Name a few of your daily habits (other than a shower and brushing your teeth).
A. I love dressing up even when I'm not going anywhere, making a bit of effort, that's a daily habit. I also do trading on bitcoin, learning and following it, and also researching and I love shopping.
Q. What publications do you regularly read?
A. I read everything! But especially as a nurse, I read a lot about cancer and nursing and the heart. I love learning about them.
Q. What are you happiest doing, when you're not working?
A. Lazing around the house!
Q. What are some causes you care about?
A. My foundation, cancer, helping and listening to people. In the black and ethnic minority community they don't like talking about cancer and mental health but it's there, someone has to keep talking about it.
Q. What do you do with friends in your spare time?
A. We go out for a meal, all different types of food.
Q. What would be your personal motto?
A. The motto of my foundation, a little bit of kindness gives somebody hope.
Remember, Answer Cancer Champions come from all types of backgrounds and communities! To join, visit here.