Over the coming months we will be profiling some of our amazing Answer Cancer Champions in a series of Q&As.
Our Answer Cancer Champions come from all types of backgrounds and communities. You don't need any special skills or qualifications to become a Champion – all you need is a personal or professional interest in tackling cancer and a passion for helping other people. You can find out more here.
The first Answer Cancer Champion we are profiling is Katie Robinson (pictured below).
Katie is a trustee of Friends of Dorothy, a charity which supports older LGBT+ people living in Greater Manchester and the North West. Over to you, Katie!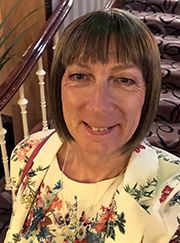 Q. Who is someone you admire, and why?
A. Wile E. Coyote from the 1948 Warner Bros cartoon series Wile E. Coyote and the Road Runner. His tenacity and inventiveness have always inspired me to keep trying, and to discover different solutions to problems. He also makes me laugh till my sides hurt.
Q. Tell me three pet peeves.
A. Litter, Boy Racers and poor use of English.
Q. What's a typical day like for you?
A. Working through a growing list of things that need doing, walking up to 5 miles, reading at mealtimes, supporting my family, relaxing in the evening with Prime Video or too much YouTube.
Q. Do you have any skills or talents that most people don't know about?
A. Yes, lots of them, from a long career in Engineering, Computers, Bible Study and raising a family.
Q. If you could be anywhere other than here, right this minute, where would you be?
A. Fort Lauderdale, Florida. Swimming in a warm sea with fish around me.
Q. Flashback to when you were 10 years old. What do you want to be when you grow up?
A. I desperately want to be a girl.
Q. If we went to happy hour, what would you order?
A. Fresh Orange Juice, NO ice.
Q. Finish this sentence. On Sunday mornings, you can usually find me…
A. in church helping out in some way.
Q. How do you want people to remember you?
A. As someone who cared about others.
Q. What do you think are the best skills that you bring to your job?
A. Empathy and Tech Savvy
Q. Name three words that describe you.
A. Kind, Helpful, Resourceful.
Q. How do you think your colleagues would describe you?
A. Amazing. 😎
Q. What do you want to make sure you do before you die?
A. Live to 103 so I can get my pension contributions back.
Q. What's a goal you have for yourself that you want to accomplish in the next year?
A. To publish a novel.
Q. Name a few of your daily habits (other than a shower and brushing your teeth).
A. Breakfast, exercise, reading, eating as healthy as possible.
Q. What publications do you regularly read?
A. Fiction Novels.
Q. What are you happiest doing, when you're not working?
A. Running, sunbathing, or running in the sunshine (preferably 25 to 35 degrees C)
Q. What are some causes you care about?
A. Baby Loss, Child Poverty, Older LGBT Isolation
Q. What do you do with friends in your spare time?
A. Talk
Q. Finally, what would be your personal motto?
A. Go confidently in the direction of your dreams and live the life you've always imagined
To join Katie and hundreds of others as an Answer Cancer Champion, sign up here.